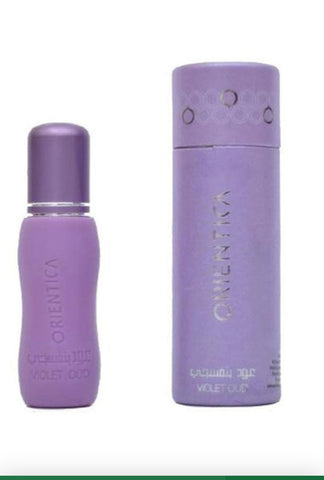 Orientica Violet Oud 6mL Roll on Perfume Oil
This oil is high quality long lasting perfume oil manufactured in United Arab Emirates. 
Fragrance Notes:
Top note: Citrus, Pear, Peach
Middle note: Candy, Heliotrope, Sandalwood
Base note: Woody, Vanilla, Musk

Orientica is from Middle East's leading perfume manufacturer of traditional Arabian and oriental perfumes. High quality exotic long lasting and is free from alcohol. Unique blends make many varieties of oil that can be used both by men and women. 

Some online reviews:


These bottles are simply adorable and chick. The rubber like covers and hourglass design prevent me from dropping it.
 I bought all the scents and I loved ...
Beautiful Orientica Attar!
At first roll on, this smells a little sweet and fruity, then it dries down exactly to a "violet oud" smell. These are great, can't wait to try Dark Purple ...
Beautiful and feminine. It smells like flowers and candy and it lasts forever! Creamy and fruity with just the right amount of spices, the vanilla notes ...
This perfume has a lovely, exotic scent. It is strong but delicate at the same time and lasts long. Doesn't cause my skin any irritation.




---
We Also Recommend
---